2018 Kia Niro Plainfield Indiana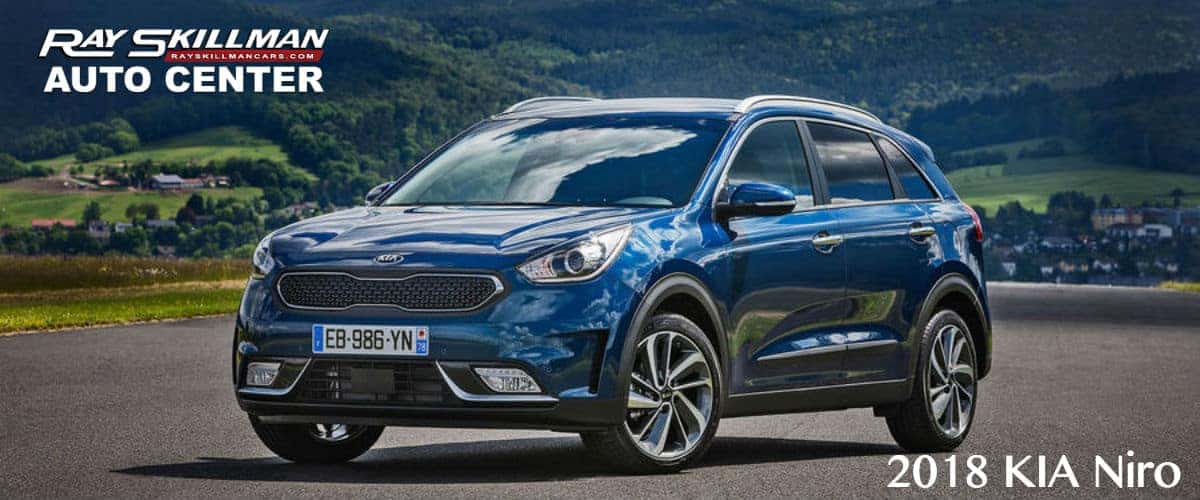 KIA Niro – Plug-in Hybrid
This relatively new Model by KIA has taken the Fuel efficiency game by storm. In 2017 the Niro was a Hybrid crossover, for 2018 we are getting an addition of a plug-in!
Blazing trails and staying green
This is an impress vehicle for KIA, a crossover Hybrid that delivers an impressive EPA-rated 52/49 mpg city/highway but mid-level Niro's are rated at 51/46 mpg. The addition of the plug-in this year sees a battery life of almost 600 Miles. At Ray Skillman Auto Center we have seen many Hybrids and Plug-ins come and go but this tall drink of water has an appeal like no other. Unlike most hybrids with continuous variable transmissions (CVT), the Niro is equipped with a highly responsive, smooth-shifting dual-clutch automatic transmission (DCT) that fills the missing piece in every-other hybrid, the Niro is fun to drive.
Wirelessly charge your smartphone
Yeah, you read that right, this KIA crossover has a built-in wireless charger for your phone. Stream your music or make calls all while your phone chargers. The Niro is compatible with Apple car Play, Android auto, and comes with My Car zone. Keep track of your Niro with speed limits and for anyone with teen drivers curfews and preset boundaries. Talk about a smart car, the Niro is on a whole new level.
While we are talking interior we have to mention some of the luxury add-ons. The KIA Niro seats are out of this world, you can get the 10-way power adjustable seats with Lumbar support for those long drives. We also recommend the heated/cooling seat and steering wheel. Ever been stuck in the car waiting for someone to "Run in real quick" 30 min later your still waiting. Now imagine that scenario but now you're reclined and your back is nice and warm all while your favorite music is playing. Yeah, its better.
Drive Wise
KIA has also designed is own packaging of safety systems to add to any KIA. We think its the best package for your Niro. In this package KIA has recommended Blind spot detection, change lanes confidently when your KIA notifies you of cars you can't see. Ever been backing up out of a tight parking spot when out of nowhere someone blasts their horn and speeds by you? With Rear Cross Traffic Alert you can avoid being hit while backing up. The last ones to mention are the Smart Cruise control, forward collision warning, and Lane Keep Assist. Here at Ray Skillman Auto Center, we know better than most how easy it is to get into an accident whether you are going 5 miles an hour or 55 miles an hour. These systems are to help avoid the collision. We always recommend using the best system is an alert driver.
Why Buy from Ray Skillman Auto Center
Buying a new car is often a long drawn out process that can leave you exhausted. At Ray Skillman it's our duty to help you find the right Vehicle for you and your family with as little stress as possible. Our staff is highly trained in helping you no matter your financial situation, we are here to work with you. Our showroom is clean, our staff is friendly, and we have fresh baked cookies every day. Stop on by and say Hi!
Check Out The Tremendous Selection At Ray Skillman Auto Center
Ray Skillman Auto Center is your destination for the KIA Niro and other KIA vehicles. We believe you deserve options, which is why we carry a fantastic selection of the Niro hybrid vehicle for you to choose from. We have over a dozen available in a variety of colors, options, and models so you are sure to find exactly what you are looking for in one convenient location. All of our product specialists are fully trained on all things KIA so they have the knowledge to serve you. Get started by browsing our inventory, then come on down and see us to take a test drive. We look forward to meeting you and earning your business the right way.

New Niro Plainfield
Ray Skillman has the perfect Niro model to get you going in style and comfort. Find yours now, along with Indiana's best value.

Pre-Owned KIA Plainfield
With a lineup as popular as KIA's, it's easy to maintain a fantastic selection of pre-owned vehicles from which to choose.

Incentives and Rebates
The Ray Skillman discount is always above and beyond what the manufacturers offer on their new vehicles. Find out for yourself today.
Experience the Skillman Difference
Buying a vehicle is a special experience. We understand that this isn't something our customers do every day, which is why we treat every interaction with the respect that it deserves. Ray Skillman has served the Indianapolis market for decades because we believe that the community and its people supersede any expectations set by a corporation. This is your community. This is our community. When you are shopping for a new or used Niro, you expect the experience to match the promise, which is why we are open and transparent every step of the way. Below, you will find more information about the new Niro. We hope that you'll contact us and allow us the opportunity to show you why buying from the Ray Skillman Auto Center is absolutely the best shopping decision you can make.
Ray Skillman KIA Niro
There's more to a vehicle demonstration than picking out colors and taking a test drive. At the Ray Skillman Auto Center, we want you to know everything that's important to you in your next new car. The KIA Niro is uniquely positioned in the Indy market to put you in the fast lane with capability and comfort. The Niro has the proper mixture of strong performance and high-tech convenience that's appealing to Indy. Our team is here to make sure you're aware of every feature, tip, and maintenance best practice because we take pride in delivering the ultimate shopping experience for our customers. Watch this video to see a glimpse for how we assist our customers in making the best selection for them.
Attention to detail is important. You won't miss a thing when you shop at the Ray Skillman Auto Center.
---
We know you have many options when it comes to car dealers in the Indy area. Our hope is that you will give us the first opportunity to earn your business because of the tremendous experience, great pricing, diverse Niro selection, and our commitment to making your buying experience the most positive one you've ever had when shopping for a vehicle. We stand behind the ideal of delivering the type of respectful engagement that the people of Plainfield deserve. If you give us the first opportunity, you'll see why our customers come back time and time again.
---
WHY RAY SKILLMAN AUTO CENTER?
Some dealerships take pride in their sales numbers. Others point to their P&L statements to determine their success. At the Ray Skillman Auto Center, the most important indicator of whether or not we're successfully achieving our goals is when YOU are overwhelmed by our outstanding customer experience. It goes beyond satisfaction. We want you to be ecstatic with the way you were treated and impressed with how easy it was to get the best deal in Indiana. Your opinion is the one that matters at the Ray Skillman Auto Center. It's what drives our success.
---
Customers Come First
See What Our Customers Are Saying
---
---
Your Niro Shopping Experience
We hope we've answered most of your questions about why you should consider the Ray Skillman Auto Center as your first choice when shopping for a new or pre-owned KIA Niro. If you are ready to learn more, please contact us through your preferred method of communication and ask us anything you'd like to know. If you're ready to schedule your test drive, please use the form below. At the Ray Skillman Auto Center, you control your shopping experience. We're here to help facilitate and to be your personal automotive experts.