Collision Center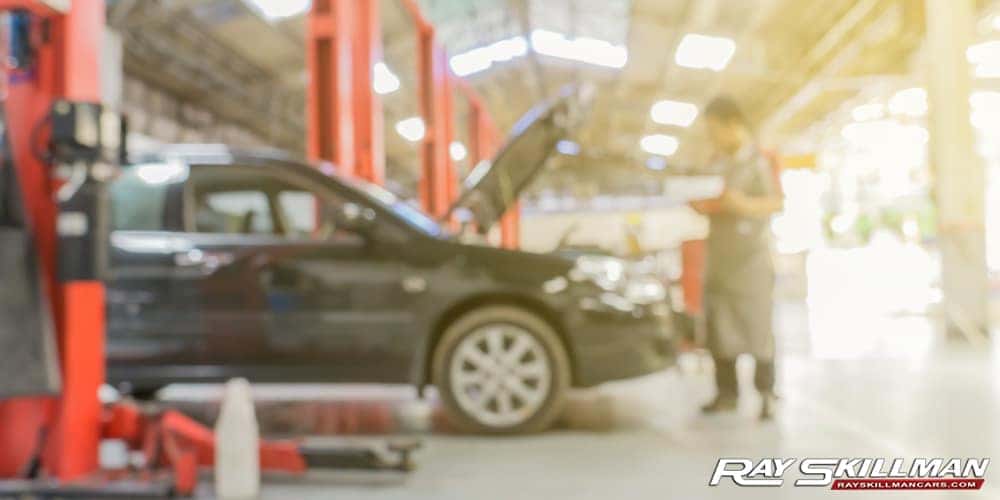 Ray Skillman Collision Center Indianapolis IN
Located at 1210 US 31 South Greenwood, IN
Phone: 317-882-5211
You Break It. We Fix It!
If you have been in an unfortunate accident or just had a little scrape in a parking lot, Ray Skillman Auto Center has the Collision Center that can fix almost anything.
Don't you just hate it when you park responsibly in the parking lot and someone leaves a loose cart in the lot to hit your car? Maybe the little kid in the car next to you dinged your car with their door. Perhaps, you were in an unfortunate accident. Whatever ails your vehicle, Ray Skillman Auto Center has the Collision Center to repair your vehicle back to its original state today.
SCHEDULE AN APPOINTMENT CONTACT US
Our Services
Whether you need a major body repair or minor scrape damage, we are the dealership that can do it all. If your vehicle has been in a major fender bender, we have the knowledge and expertise to make the necessary repairs to ensure your vehicle is back to pre-collision condition. In fact, it may even look better than it did before. Does your car suffer from hail damage? Large hail can be brutal and cause severe damage to your vehicle. We are the experts that are here to repair it for you. Maybe you have a rock chip in your window because of all of the sand that has been laid during the winter months or due to construction. We can fix that too! We handle the collision repairs, paint issues, window repair, and even have welders on hand so we don't have to sublet our vehicles out to another shop. We can perform pre-repair inspections and even post-repair inspections from other shops if you have concerns. Let Ray Skillman Auto Center take care of all of your collision and paint needs when you stop by our Collision Center and see us.
Why Ray Skillman?
When you choose to repair your vehicle at our certified Collision Center, you know your vehicle will be repaired correctly. We will repair your vehicle using only the correct OEM parts and not some cheap knockoff. We will repair your vehicle back to the pre-collision condition so you won't even notice there was an issue, to begin with. All of our collision technicians are professionally trained and certified by the manufacturer to make repairs to your vehicle per the manufacturer's specifications so you know it will be repaired correctly the first time. We will also work with your insurance company to take the stress off of you so that you can focus on what is more important. We know the ins and outs of dealing with insurance companies and we will work on your side to make sure your vehicle gets all of the necessary repairs it needs with the OEM parts it deserves. Let us be your advocate as we make the repairs to your vehicle. Come see us at Ray Skillman Auto Center to start your collision repairs today.
Added Benefits
Of course, you know that it is better to repair your vehicle at Ray Skillman Auto Center because we offer many repair services, will repair your vehicle with only OEM parts, and we will work as your advocate with the insurance companies, but there is more to working with us than just those things. For instance, since we have our own Collision Centers, we don't have to sublet out work to other shops that may not perform work up to our standards. We care about our customers and want you to be completely satisfied with the work that we do, that's why we will make sure it is up to the OEM's standards before returning your car to you. We also offer loaner cars and shuttle service to help you out while we are repairing your car at our Collision Center. Come see why it is different at Ray Skillman Auto Center and start by making your appointment today. Our technicians are standing by to answer all of your questions.