Used Buick Envision Plainfield Indiana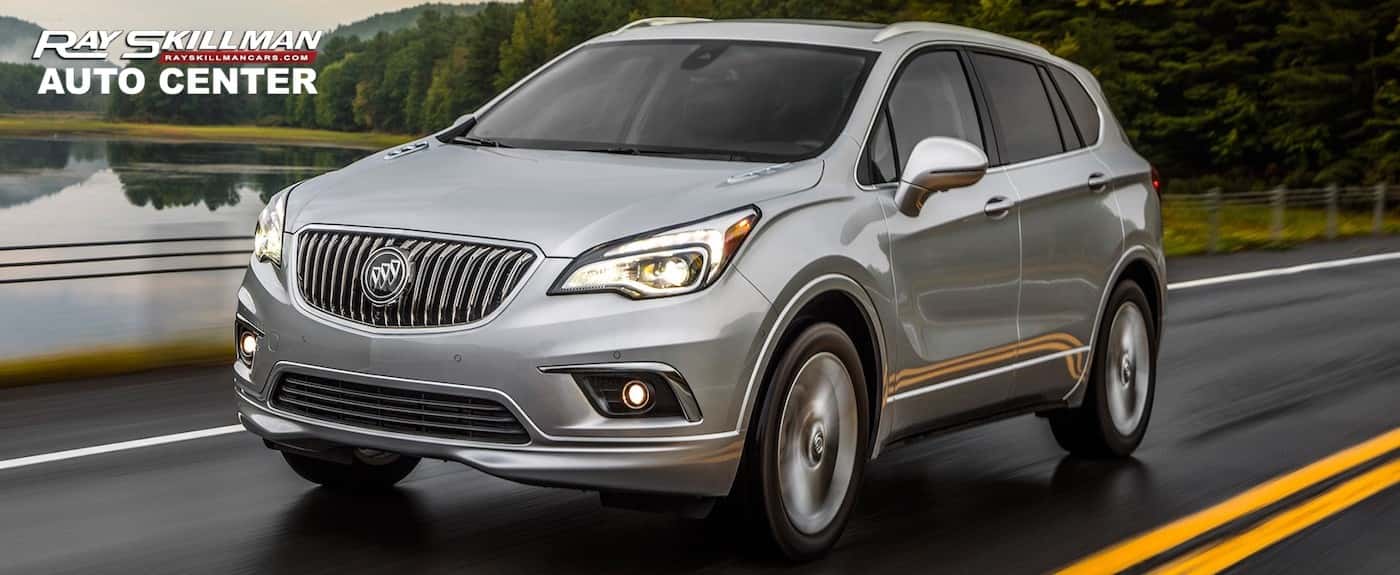 The Ray Skillman Auto Center
The Used Buick Envision – Experience The Joy Of Driving
The used Buick Envision is ready to put the joy back into every drive. Discover all that awaits you inside the used Envision at Ray Skillman Auto Center near Plainfield, IN.
The Buick Envision is a modern marvel in the world of small SUV's. With stunning style and loads of luxury and convenience, the Envision can really take you places. Hop in and get going with the dedicated team at the Ray Skillman Auto Center near Plainfield, IN.
Superb Style
It goes without saying that you want a vehicle that performs well, but you also want it to look good. It's not superficial to be hung up on your vehicle's style. In fact, it's perfectly natural. With the used Buick Envision, your style needs just got a serious upgrade. The Envision's exterior is extremely visually appealing, with smooth, sculpted lines that reveal an assertive body style, you're bound to turn a few heads around town; okay, you'll turn a lot of heads. The Envision inspires those, "Ooh, look at THAT!" feelings from onlookers and passersby. Get ready to attract some attention, and possibly cause some jealousy.
Your Comfort Is Key
An oasis of luxurious comfort awaits you inside your incredible used Buick Envision. Surprising spaciousness for a small SUV creates a welcoming environment that you and your passengers are sure to enjoy. Premium materials, convenient design and a meticulous attention to detail create the perfect space to fall back in love with driving. You may even find yourself pouring out the milk so you have an excuse to run to the store and get a bit more quality time inside your Envision. Stop into the Ray Skillman Auto Center and experience this high level of luxury firsthand.
Safe And Sound
Sure, most SUV's are family friendly, but which one can do more to ensure the safety of your precious cargo? Your used Envision was rated a Top Safety Pick by the IIHS in 2016. It also earned the coveted 5-Star Vehicle Score for Safety with available front-end crash prevention. Do you want to know what's going on around you? No worries. The Envision is available with five cameras, ten ultrasonic sensors, and three separate radars so that you're always aware of who or what is around you. This level of driving confidence is absolutely priceless.
High-Tech Connectivity
As a passenger, it's hard to get excited about the way a vehicle drives; but it's easy to get excited about conveniences like the Envision's available 4G LTE Wi-Fi hotspot. Features like this can elevate the driving experience for everyone, especially the kiddos. You'll also enjoy Apple CarPlay and Andriod Auto compatibility. This allows you and your passengers to remain completely connected to your world, wherever you are.
It's Time To Visit The Ray Skillman Auto Center
Owning this model is a wonderful experience in itself, but you also deserve to best possible buying experience and unbeatable value along with it. That's where we come in. We take pride in our ability to make our customers happy every time. We do this by personalizing your experience, listening to your specific needs, and giving you everything you want. Find out what it's like to actually enjoy buying a car when you work with the dedicated team at the Ray Skillman Auto Center.

Used Envision Plainfield
Ray Skillman has the perfect used Envision model to get you going in style and comfort. Find yours now, along with Indiana's best value.

Pre-Owned Buick Plainfield
With a lineup as fantastic as Buick, it's easy to maintain a fantastic selection of pre-owned vehicles from which to choose.

Incentives and Rebates
The Ray Skillman discount is always above and beyond what the manufacturers offer on their vehicles. Find out for yourself today.
Experience the Skillman Difference
Buying a vehicle is a special experience. We understand that this isn't something our customers do every day, which is why we treat every interaction with the respect that it deserves. Ray Skillman has served the Plainfield market for decades because we believe that the community and its people supersede any expectations set by a corporation. This is your community. This is our community. When you are shopping for a used Envision, you expect the experience to match the promise, which is why we are open and transparent every step of the way. Below, you will find more information about the Envision. We hope that you'll contact us and allow us the opportunity to show you why buying from the Ray Skillman Auto Center is absolutely the best shopping decision you can make.
Ray Skillman Buick Envision
There's more to a vehicle demonstration than picking out colors and taking a test drive. At the Ray Skillman Auto Center, we want you to know everything that's important to you in your next car. The Buick Envision is uniquely positioned in the Indy market to put you in the fast lane with capability and comfort. The Envision has the proper mixture of strong performance and high-tech convenience that's appealing to Indy. Our team is here to make sure you're aware of every feature, tip, and maintenance best practice because we take pride in delivering the ultimate shopping experience for our customers. Watch this video to see a glimpse for how we assist our customers in making the best selection for them.
Attention to detail is important. You won't miss a thing when you shop at the Ray Skillman Auto Center.