Used Mitsubishi Mirage G4 Fishers IN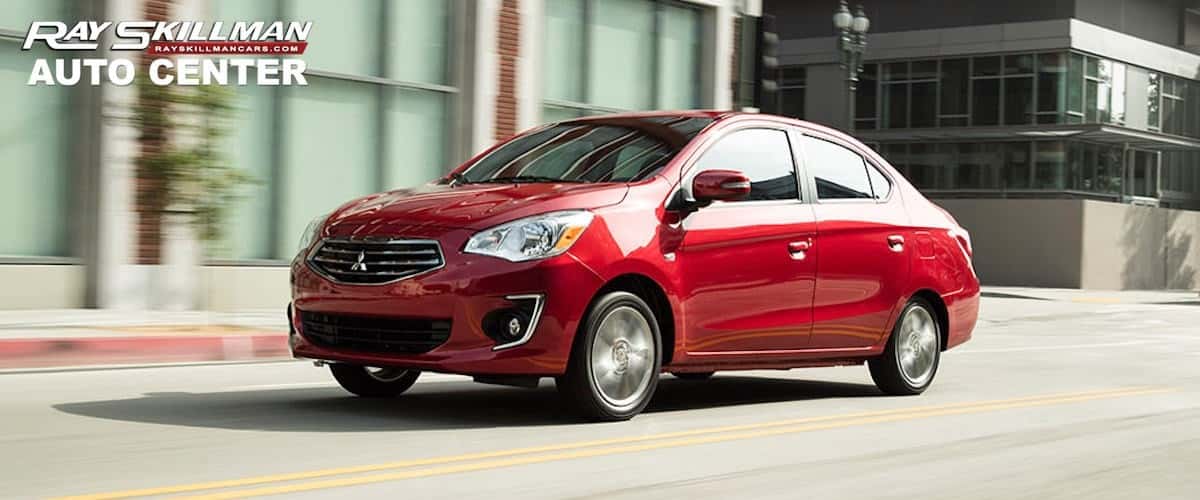 The Ray Skillman Auto Center
The Used Mitsubishi Mirage G4 – Affordable, Economical, AND Fun
The used Mitsubishi Mirage G4 is one of the most affordable and economical cars on the market and in Fishers. Not only does it get great gas mileage, it is a great price too. Stop by the Ray Skillman Auto Center and see how much money the Mirage can save your bottom line.
Where has life taken you? Are you a parent that wants a reliable, yet affordable car for your teen driver? Are you fresh out of college and ready for the career phase of your life? Do you already have a car, but need a second car for mom or dad to commute to work? No matter where life is taking you, you can get there in the used Mitsubishi Mirage G4 and we have them at Ray Skillman Auto Center.
Energetic, Economical, and Efficient
Everyone out there is looking for a great deal. If you are like us, you love a bargain; and you love it, even more, when it feels like you are stealing it for pennies. You will get that feeling when you choose the Mitsubishi Mirage G4. With a starting MSRP of just $13,995, the Mirage is a great value and offers you an affordable low monthly payment so you can save your hard earned cash for more important things. It also gets an EPA estimated 35 miles per gallon in the city and 42 miles per gallon on the highway, making it one of the most efficient vehicles on the road. You also save money at the gas pump because you don't have to stop as often to refuel, saving you precious time too. Come into Ray Skillman Auto Center and see how much money choosing the used Mitsubishi Mirage G4 can save you.
Improve Your Driving Experience
For those of you that have to drive and really don't enjoy it, you will when you are in your Mirage G4. For those of you who love to drive, you will have even more to love in the Mirage. Have you ever had your hands full and had to dig for your keys? Not anymore with the Mirage. The Fast Key Entry System with Push Button Start makes unlocking and starting your engine a breeze as you leave those pesky keys hiding in their place. Did you know that the Mirage G4 was also designed to give you less blind spots so you have the best visibility around every corner? Economical doesn't mean lacking with the Mirage because you get automatic climate control and heated front seats, as well as cruise control for your road ahead. Take a full tour of the Mirage at Ray Skillman Auto Center today.
Tech You Might Not Expect
When you choose an economical and affordable sedan, you may not think it will come with much in the way of technology. Be prepared to be pleasantly surprised when you choose a used
Mitsubishi Mirage G4 because it has technology that will delight you. Android Auto and Apple CarPlay work with your compatible smartphone to give you access to hands-free calling. You can also send and receive text messages, get turn by turn directions and a map that displays on the infotainment system, and if you get bored, you can ask Google or Siri silly questions for the pure sake of entertainment value. You can even stream your favorite music from your phone or play saved MP3 files that are on your phone so you will have your favorite tunes on hand every time. Let our tech experts show you these features and more when you visit our store.
Your Mirage G4 Awaits You
Are you ready for the Mitsubishi Mirage G4? We have what you are looking for at Ray Skillman Auto Center. Not only do we have a variety of models in different colors and various option combinations, but we also offer you great low prices every day. Plus, we give you the tools you need all from the comfort of your home all on our website. You can check out our inventory, calculate your payment, value your trade, and get pre-approved for financing all before you visit our dealership. If you prefer a more traditional experience, we are here anytime to serve you. Call us, email, chat or stop by anytime and we will come running to serve you.

Used Mirage G4 Plainfield
Ray Skillman has the perfect used Mirage G4 model to get you going in style and comfort. Find yours now, along with Indiana's best value.

Pre-Owned Mitsubishi Plainfield
With a truck as tough as the Mirage G4, it's easy to maintain a fantastic selection of pre-owned Mitsubishi vehicles from which to choose.

Incentives and Rebates
The Ray Skillman discount is always above and beyond what the manufacturers offer on their vehicles. Find out for yourself today.
Experience the Skillman Difference
Buying a vehicle is a special experience. We understand that this isn't something our customers do every day, which is why we treat every interaction with the respect that it deserves. Ray Skillman has served the Plainfield market for decades because we believe that the community and its people supersede any expectations set by a corporation. This is your community. This is our community. When you are shopping for a used Mirage G4, you expect the experience to match the promise, which is why we are open and transparent every step of the way. Below, you will find more information about the Mirage G4. We hope that you'll contact us and allow us the opportunity to show you why buying from the Ray Skillman Auto Center is absolutely the best shopping decision you can make.
Ray Skillman Mitsubishi Mirage G4
There's more to a vehicle demonstration than picking out colors and taking a test drive. At the Ray Skillman Auto Center, we want you to know everything that's important to you in your next car. The Mitsubishi Mirage G4 is uniquely positioned in the Plainfield market to put you in the fast lane with capability and comfort. The Mirage G4 has the proper mixture of strong performance and high-tech convenience that's appealing to Plainfield. Our team is here to make sure you're aware of every feature, tip, and maintenance best practice because we take pride in delivering the ultimate shopping experience for our customers. Watch this video to see a glimpse for how we assist our customers in making the best selection for them.
Attention to detail is important. You won't miss a thing when you shop at the Ray Skillman Auto Center.
---
We know you have many options when it comes to car dealers in the Plainfield area. Our hope is that you will give us the first opportunity to earn your business because of the tremendous experience, great pricing, diverse Mirage G4 selection, and our commitment to making your buying experience the most positive one you've ever had when shopping for a vehicle. We stand behind the ideal of delivering the type of respectful engagement that the people of Plainfield deserve. If you give us the first opportunity, you'll see why our customers come back time and time again.
---
WHY RAY SKILLMAN AUTO CENTER?
Some dealerships take pride in their sales numbers. Others point to their P&L statements to determine their success. At the Ray Skillman Auto Center, the most important indicator of whether or not we're successfully achieving our goals is when YOU are overwhelmed by our outstanding customer experience. It goes beyond satisfaction. We want you to be ecstatic with the way you were treated and impressed with how easy it was to get the best deal in Indiana. Your opinion is the one that matters at the Ray Skillman Auto Center. It's what drives our success.
---
Customers Come First
See What Our Customers Are Saying
---
---
Your Mirage G4 Shopping Experience
We hope we've answered most of your questions about why you should consider the Ray Skillman Auto Center as your first choice when shopping for a pre-owned Mitsubishi Mirage G4. If you are ready to learn more, please contact us through your preferred method of communication and ask us anything you'd like to know. If you're ready to schedule your test drive, please use the form below. At the Ray Skillman Auto Center, you control your shopping experience. We're here to help facilitate and to be your personal automotive experts.